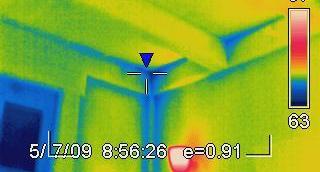 The following testing services are available:
Blower Door:  Air Tightneess Testing of an apartment, a house, a commercial space, or an entire building
Duct Testing:  Air Tightness Testing of installed HVAC ductwork, including supply, return, and exhaust duct runs.
Static Pressure Test: To confirm that your air handler is operating in a balanced, efficient mode
Air Flow Testing:  Testing of actual airflow at air  supply or exhaust vent locations
Combustion Safety Testing:  Verifying draft on Combustion Appliances, measuring CO, and checking exposed natural gas lines for signs of leakage
Thermography:  Infrared imaging to aid in the detection of unwanted water presence or (in conjunction with Blower Door testing) demonstrating airleakage locations.
Other related services may be available on request.